A Glimpse at the Art & Craft of Uttar Pradesh
Indian soil has been an inspiration for the lovers of Art and Craft throughout the world. The State of Uttar Pradesh is quite famous for its mesmerizing arts and crafts that tell a beautiful tale of its rich legacy and cultural heritage.
Uttar Pradesh has some extremely famous art tradition centres in India. The famous Indian state takes the credit of supporting various art forms since quite long. From Varanasi to Agra, every small or big town is well-known for various forms of art and craft in Uttar Pradesh.
Amazing Art and Incredible Craft of Uttar Pradesh
Painting, sculpture, hand-crafted designs on metals, wood, clay, stone and ivory are some of the art and craft forms that are widely practiced in the state.
We have tried to compile the most famous art and craft form of Uttar Pradesh; let's have a look at these:
Benarasi/Varanasi Silk:
Varanasi Brocade or Varanasi Silk is an extremely popular craft of Uttar Pradesh. The lovers of this craft are present across the world and the demand for such products never seems to cease. The rich Varanasi brocades are created on cotton fabric or fine silk using precious metal threads like gold and silver threads. These are then used to create awesome designs on sarees and pieces of salwar suits. Benarasi sarees are so popular that without them no marriages seem to be possible in India. These are a must for the bride as well as guests. The designs on these sarees include various kinds of floral motifs that look wonderful after finishing.
Zardoji:
Zardoji is a unique type of art where embroidery is done in three different dimensions. Zardoji work on Banarasi sarees looks just fabulous and Zari work of Varanasi is extremely famous across the world.
Chikankari
Chikankari is one of the most popular and significant crafts of Uttar Pradesh. The word 'Chikankari' is derived from the Persian word 'Chikan' that means cloth. This craft makes use of beautiful motifs that look attractive. Kurtas, Salwar Suits and Sarees embriodered with chikan work look graceful and utterly beautiful. Chikankari involves traditional hand embroidery that is subtle and looks great. The art of Chikankari can be seen in various patterns like bakhia, lerchi, curee and keelkangan. Lucknow is extremely popular for this style and such types of handicrafts are most practiced there. Chikankari work is mostly done on the fabrics like chiffon, muslin, silk, organza and organdie. Kurtas, Sarees and tops look simply great with chikankari work on them and these are quite popular too with masses and classes alike.
Jewellery
Lucknow, the capital of Uttar Pradesh is admired for jewellery and enamelling work. Enthralling pieces of silverwares with a plethora of designs of roses, snakes and hunting scenes are extremely popular. The exquisite Bidri and Zarbuland and eye-catching silver works of Lucknow locate expression on the stupendous pieces of huqqa farshi, jewel boxes, bowls, cigarette holders, trays, cufflinks etc.
Lucknow is also very well-known for bone and ivory carvings with various kinds of motifs ranging from flowers, leaves and trees to animals, creepers and birds.
Skilled craftsmen from Lucknow are masters of their crafts and come up with alluring designs of intricate items like knives, lampshades, shirt pins and small toys etc.
Painting & Rock Painting
Uttar Pradesh is well-known for various sorts of paintings that are being practiced here since pre-historic times. The cave paintings of Sonbhadra and Chitrakoot depict various scenes of hunting, war, animals, festivals and dance. During Mughal period the painting reached zenith. It was during the reign of Jehangir that the painting was on its peak. The penchant of Mughals for painting is well-known for their beautiful style, concept and presentation.
The paintings of Mathura, Gokul, Govardhan and Vrindavan depict various scenes from the life of Lord Krishna. The range of BUndelkhand too is renowned for the perfection of paintings.
Garhwal School of painting, supported by the Garhwal Kings is a very famous form of pre-modern paintings.
Glass Ware:
Firozabad in UP is very famous for Glass Ware. Initially only Glass bangles used to be produced in the famous city of Firozabad but gradually the Glass Ware industry started flourishing and today it has taken an amazing shape. The buyers for this amazing craft include several from India as well as abroad. Glass beads are produced in Varanasi and other articles made up of glass including glass plates, toys etc. are produced in various other parts of the state.
Metal Ware
Uttar Pradesh is famous for attractive metal ware products and beautiful carpets too. Metal ware products and pottery work are done on large scale in Uttar Pradesh. The state is known to be the largest brass and copper manufacturing state in India. The traditional articles are mostly made up of copper. Moradabad in Uttar Pradesh, India is very famous for metal work and it has become immensely popular for meticulous work of engraving and coloured enamelling. Art Metal Brass Ware is a famous craft of Moradabad. Various products created under this category in Moradabad include trayes, stolls, vases, idols and figurines of Gods and Goddesses and other decorative items.
Pottery:
Chunar, Khurja and Rampur in Uttar Pradesh are popular for Glassy Pottery. The state has produced some of the finest pieces of Chunar black clay pottery. These look just fantastic with alluring designs and shimmering silver paint. Nizamabad is famous for an art form that has high precision and great shine derived from Kabiz (Kabiz – a powder produced from the mud of the rice fields). Khurja in Uttar Pradesh is famous for rough tableware that look great and cost less.
Terracotta
Some portions of Uttar Pradesh are also marked for animal clay figures. Gorakhpur has villages that are known for producing such figures. Terracotta horses too are produced by the artisans of this city in Uttar Pradesh. The potter creates the basic form by tossing separate pieces on the wheel that are assembled later.
Stone craft:
This is a popular craft of the famous city Agra in Uttar Pradesh. The craftsmen engrave fine work of art on stones and give them beautiful shapes of various things like windows, furniture and showpieces etc. These art works look amazing and allure the people who have a flair for art.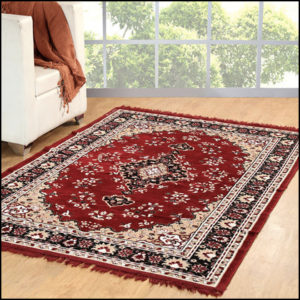 Carpets:
The state is known to contribute 90% of total carpets produced in India. Most of the carpet-weaving centres are located in Bhadohi, Mizapur and Khamaria. Carpets made in Uttar Pradesh have gained fame worldwide and are well-known and in high demand for their graceful looks and great texture.
Perfume:
Lucknow, the capital of Uttar Pradesh produces enchanting 'Attars'. The perfume producers of Lucknow are masters in the art of making attars with long-lasting fragrances that are subtle and made using various aromatic oils, herbs, musk, sandal and fragrance of flowers and leaves. They prepare some of the best fragrances including khus, agar, keora, chameli and zafran.
Get ready to dive into the treasure of Art and Craft of Uttar Pradesh and feel enriched and rejuvenated by the sheer beauty and undying charm of the beautifully created products.