8 Famous Arts & Crafts of Maharashtra
Maharashtra is a state that is well-known for its rich cultural heritage. Arts and Craft heritage of state of Maharashtra is not hidden from any one. The alluring and eye catching handicraft designs from various districts of the state of Maharashtra make it very popular for its artists' creativity. Maharashtra is renowned for its diversified and multiple customs, religions, traditions, etc.
Maharashtra is the city of rich arts and crafts mostly handcrafted by women, tribal and local people to retain the rich culture of the state. Let us have a close look at the most famous arts and crafts of Maharashtra:
Mashru and Himroo
Shawls hand crafted with the use of Silk, Cotton and satin are well known products from the city of Aurangabad. These are usually done by weaving the threads of cotton and satin which are so soft that the finished product looks like to be made up of silk.
Bidriware
Handicrafts made of a mixture of zinc and copper, and usually finishing touch given with the silver are well known as Bidriware. It is a great contribution by the people of Aurangabad to the art & craft of the state of Maharashtra. Bidriware arts were earlier used to make PaanDaans and Hookahs.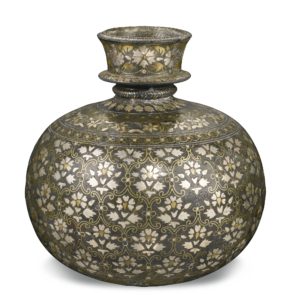 Kolhapur Jewellery
Known since the historic days of Peshwas and Marathas, Maharashtrian jewelleries are very well known for their beauty and richness in designs. Kolhapuri Necklace is a famous jewellery design called as Kolhapur Saaj and it's extremely popular with Maharashtrian women.
Sawantwadi Craft
Sawantwadi is a city in the district of Sindhudurg, Maharashtra. Sawantwadi is well known for its craft work of Lacquer. Since 17th Century Sawantwadi is known for lacquer art work.
Narayan Peth Sarees
Solapur is the city in Maharashtra that is known for its Narayan Peth sarees. It is a popular saree that is favorite of saree lovers. These sarees are weaven mainly by the women from Solapur city.
Paithani Sarees
Originated from the region called Paithan, Paithani Sarees are made up of silk and used by traditional women. It is usually costly since is specially handcrafted and made by best quality of silk.
Warli Painting
Special Tribal Painting is a celebrated style and known as Warli Painting. Warli is a tribe in outskirts of Northern part of Mumbai. It is a theme based art type drawn by women and these special paintings are done usually on mud walls, cloths, bags etc.
Kolhapuri Chappals (Footwear)
Kolhapur is Famous for hand-made leather footwear popularly known as Kolhapuri Chappals. Kolhapuri chappals are famous for their simple designs, style, and fine quality of leather. Kolhapur, the famous city of Maharashtra is also recognized as a Religious Tourist place along with traditional arts.