Inspiring journey of Pooja working in creating Handicrafts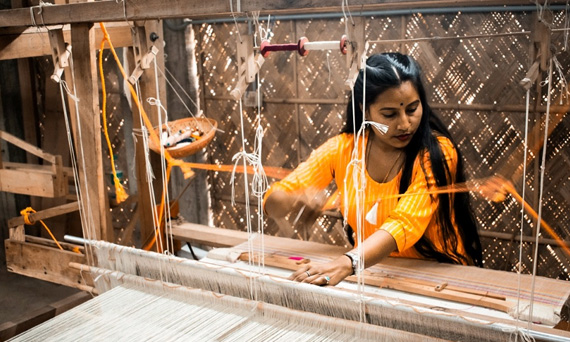 Pooja is a bright girl with big sparkling eyes that have dreams of a bright future. Her story is as bright and pleasing as her eyes and smile.
I met her many years ago when she was a shy 17 years old girl who had limited English speaking skills. During then she was working as an assistant with one of our Self Help Groups. While interacting with her I got to know about her family of 7 people that consisted of her mother, grandmother, two younger sisters and two younger brothers. Her mother and brothers were small vegetable sellers who used to somehow manage all their expenses with their meager income. Pooja was indeed a support for the family as she was contributing towards family's expenses with her income.
After her work with self help group, she also used to help her sisters for the household work. She is a young girl from Madhya Pradesh and she lost her father at a very young age, leaving her younger siblings, grandmother and mother behind. Mumbai and its suburbs have a huge population of migrant workers; Pooja, along with her siblings, mother and grandmother shifted to Mumbai in search of work. She got work with a self help group and mother started selling vegetables. In a very short time span, Pooja became able to send her siblings to school and she also enrolled herself in a distance learning graduation course.
Pooja worked with dedication and started moving up the ladders of success very swiftly. She took care of her family really well and her mother too joined her work. She is married now and still continuing her work with great zeal.
Pooja's story is inspiring and depicts that empowering women means a positive change for the entire society.